It's coming in a weeks time, I have readings to cover, and still have some assignments to do. My words would most likely be missing from here in between days until the 10th of November comes dawning.

I haven't been much up to the studying, more of the relaxing.

Friday itself was covered with events of cheese doodles, further details of my attachment with the Palm Oil Research Institute of Malaysia, my participation in the 3rd National Health Sciences Debate, a student-staff liason meeting, 2 hours of classes and spending the night out with Steph.

Its going to be pretty much the same Tomorrow. Today,... I'm still karyotyping.

Saturday however was much uplifting :D . About 5 km of walking in Kiara Hill early in the morning with Hann Yong. I saved some issues and gossip to be discussed with him while going through the tiring up-hill slopes. Had dim sum for breakfast, spent the rest of the morning dozing off until it was time for our show. Which reminds me... DODGEBALL is sooooo cool!!!

*Ahem* had a tea at Ms. Read's deli cafe with angel hair pasta, salmon and caviar plus a rather large but heavenly carrot cake :)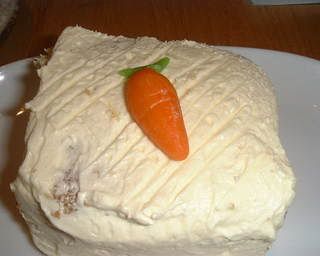 Mmm...carrot cake!
Went back to Hann Yongs place to catch more ZZZzzs, had crap food at Chiko-Ho ramen at Ikano befreo going down to Taman Tun mamak with Kelvin and Jo.
A whole day of bliss. Nothing much to worry about :) Looks like I won't be enjoying any of this until after biochemistry
Sig *mental slap*
No sighing april. Just wait it out. :P