Seems like I had that last paper ages ago. And yet still had no time to update my blog until now. Tsk tsk.

Was over at Hann Yong's house straight after the paper. I thought maybe I could sleep to catch all those missing dreams that have been swallowed by nightmares of missing papers and question panic. Sometimes I think when you're with good company you can't resist to stay up.

I could have gone home after dinner to take a warm bath and snooze on the bed all night. Nopes. I wanted to go out with Felicia and walk round 1Utama to spend my money on a 4-coloured purple eyeshadow compact.

After coming home, I should have cuddled up with Mr. Cuddles and Snowy the bear after my shower. Nah-uh. I wanted to play my 5 new PS2 games including Star Ocean and Crash Bandicoot Twinsanity.

Which left me darn tired on Wednesday. But I still went shopping at 9:30am at pyramid after arriving at Uni and arriving at that mall even before the doors were open to public. I was shopping for roughly 3 hours walking around in heels when I could have strapped in my comfy new tennis shoes sitting bored in my car.

From pyramid, we moved back to Uni where I had to sit for a debate meeting. Lets not talk about that shall we. It pressures me to think when my friend told me "the pride of Monash rests on your mouth". Aiseh.

And then I went to Hann Yong's place again. This time I really konked off to sleep.


"You were sleeping so soundly I didn't want to wake you up"

"How long have I been asleep?"

"About 1 1/2 hours. You were even snoring."

Embarassing.

I should have slept.


And then the next day I had to go shopping again. To buy a new cocktail dress on impulse and a new Estee Lauder make up set on Promotion. This teaches me that I have to find a new hobby.

Which then brings us to the of the day event that took place about 15 hours ago. Karaoke with Choo Ki, Edwin, Lee, and Nick. But before that, I was being served by a 2004 Cleo Bachelor at Starbucks :D

Ho Ho, this was fun, My first time, and I guarantee not my last time at Redbox. We started off with Zombie and ended up singing Old Mac Donald and 'Balik Kampung' for sillies sake :D Although I must suggest...enough with the beautiful and not-so beautiful women standing lonely flipping their hair in the wind and posing for a bunch of ppl probably more interested in wailing their lungs to the words below the screen.

I also learnt something new after Redbox. I can't watch scary movies in the cinema. I also confirmed that somehow, Asian ghosts don't get so much emphasis on their freakiness on screen, but I still believe they are potentially scarier than Western ghosts.

Later, off to Kenneth's barbeque in my old neighbourhood. Cracked up a few jokes on sex with the rest (Khee Kuan, Richie, Jin Chong, Hui Ting, Jeremy, Wei Kuan, Abitha)but I missed Timothy :( Darn.

And to Bangsar we go from there :) Picked Hsu Pheen up and we started "ahem" talking about other people we both knew and people and car watching from the entrance of coffee bean :P

I come home later to a messy room. I can't take it.....must pack. Now, there is this naggy feeling that tells me, i may be waking up and rushing myself to the Tennis Club meeting tomorrow in Uni.

Oh yes, upon request, I'm putting up some snaps from the last few days.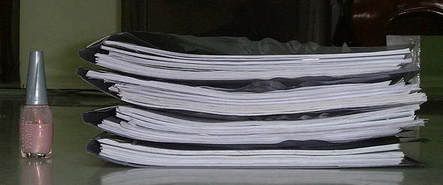 Wahaha, I've packed my room and put each respective paper and book in it's place. These are the wonderful folders that hold my 'not-so wonderful' assignments for only the second semester. I used a bottle of nail polish for comparison *grin*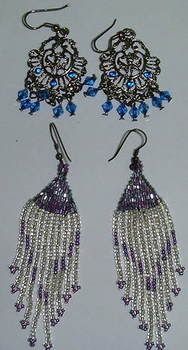 Mah two new earrings, I have this odd obsession for large earrings all of a sudden. I suddenly realised the purple pair at the bottom look like beaded jellyfish
For some dumb reason, I can't put up the picture of my
new back-less cocktail dress
. But ahhh. Click on the link :P
There you go. Now I must go.