I don't know how many people have notice that North Bound towards KL on the North South Highway, there is either an incredibly sweet or if some of you would think, a peculiar landmark that shows you're about to approach Kajang.
Of course, I didn't notice it myself until I was posted in Seremban for work purposes. But its not everyday or everywhere that you'll see a large picture perfect photo of a soon to be married couple/married couple plastered on the side of the high way with a large DOUBLE HAPPINESS SIGN, the couples name and a date.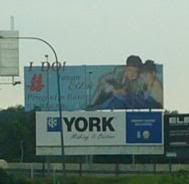 I shared that drive-by moment with my colleague sitted next to me and told her.
'Well you know something...no company sponsorship etc...it must be by the couple themselves'
'Maybe he loves the wife alot that they put it up? Or his wife loves him. Or wedding present from one of the guests who works in advertising... ' she giggles.
Some people just said... 'WAH SCARED PEOPLE DON'T KNOW ABOUT IT AH?'
other people said ...' MAYBE HAD DINNER NEAR BY THERE AND WANTED TO SHOW THEY WERE ON THE RIGHT END OF THE NORTH SOUTH H/WAY'
Damn bad....Then again, it's not everyday and everywhere :P