*Backdated Entry*

After Hann Yong had an almost perfect day at work and me having an almost perfect day at uni, dinner made the day, in the end,... perfect.

Italiannis is a new place on the 1st floor of the new wing of 1 Utama, and thanks to Irene, we had invitations to attend the opening and had complementary dinner :D.

Plenty of people attending to you, service is really efficient for a restaurant opening, and the ambience is fantastic. We were seated on a table with a cottage window on the right overlooking Taman Tun.

If it weren't for the specially selected menu for each table, I would have ordered my super fattening and favourite carbonara.

It started with fresh focaccia and tuskan bread and a generous plate of olive oil with some liquid extracted from grape which i most likely think was fermented.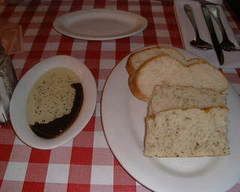 That night we indulged in the dish of capped mushroom. Large Juicy mushrooms, stuffed with a mixture of herbs and minced sausages and the mushroom heads sinking in a plate of creamy cheese and herb sauce. I never liked mushrooms, but this one was good enough for my fussy taste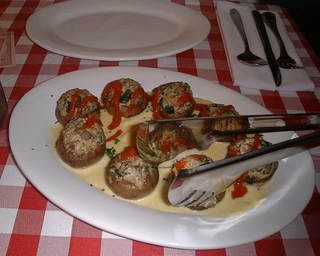 Main course was seafood pizza with salmon, calamari, tuna, and shrimps. Not really that great but the creme brulee was just perfect...
We're going to go back there on special occassions, and my primary reason would be to try the carbonara!