Christmas Tree 2004.
12th December 2004 - 17th January 2005
Decoration, Friend and Symbol of Christmas

Down came the lovely blue, silver and white ornaments on the Christmas tree 2004. Something that took me time to decorate with great care and yet; not many people actually paused to notice it. What a tragic waste of effort. Tee Hee.
Anyways, its time to take down the old and bring in the new with upcoming CNY. The typical chinese house would set up lanterns, bring in the pink flowers, fold and string red packets in an array of eye-catching motives, tie red ribbons around purposely displayed fruits, or stick up a huge fan/"prosperity" word/ drawings of lions, fishes, the God of prosperity or the young boy and girl.
Yeah, this house has all that. But we have alitle something extra ;)
To save on storage space for a few months and of all the hassle of folding back and keeping away the Makro purchased tree; I present to you...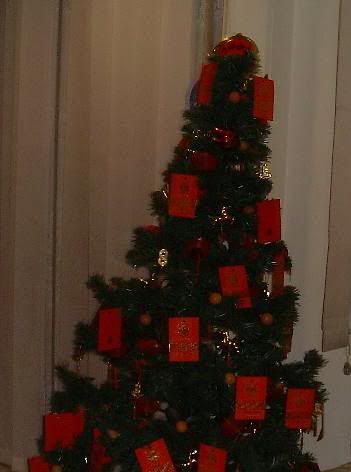 The CNY tree!
Est. Since 19th January 2005
Decorated with used red packets, plastic laterns, plastic mandarin tangerines and gold symbols of prosperity with red tassles.
Truly; one of the oddties you'll find in the whole of KL.