Tired of digging up your phone in this seasons hip but oversized bags? Can't always feel its there when it feels the same as any other thing in your bag or pocket? Well, never lose your phone again! Just dangle 5 or more straps and with bells, feathers and lamp work surfaces you handphone will be available to you by just the tingle of bells or a touch of multi grained surfaces!
With a 25cm chain strap attached, it's sure to slap nosy parkers lurking behind you!
Designed to keep your handphone company and in style with times, some straps will offer you blinky lights!
KISS THE MALAYSIAN HANDPHONE STRAPS QUEEN JAPANESE GIRLS!!! BWAHAHAHAHAH
Smack me. I have officialy hit the peak of La-la ness.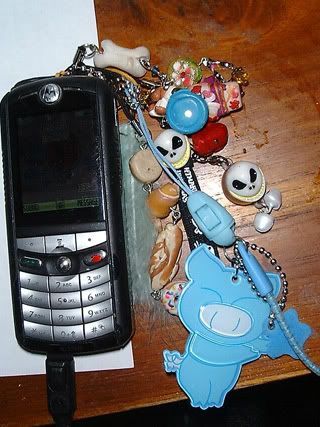 Ooooh handphone orgies.